The Benefits of a Scheduled Maintenance program for electrostatic air cleaners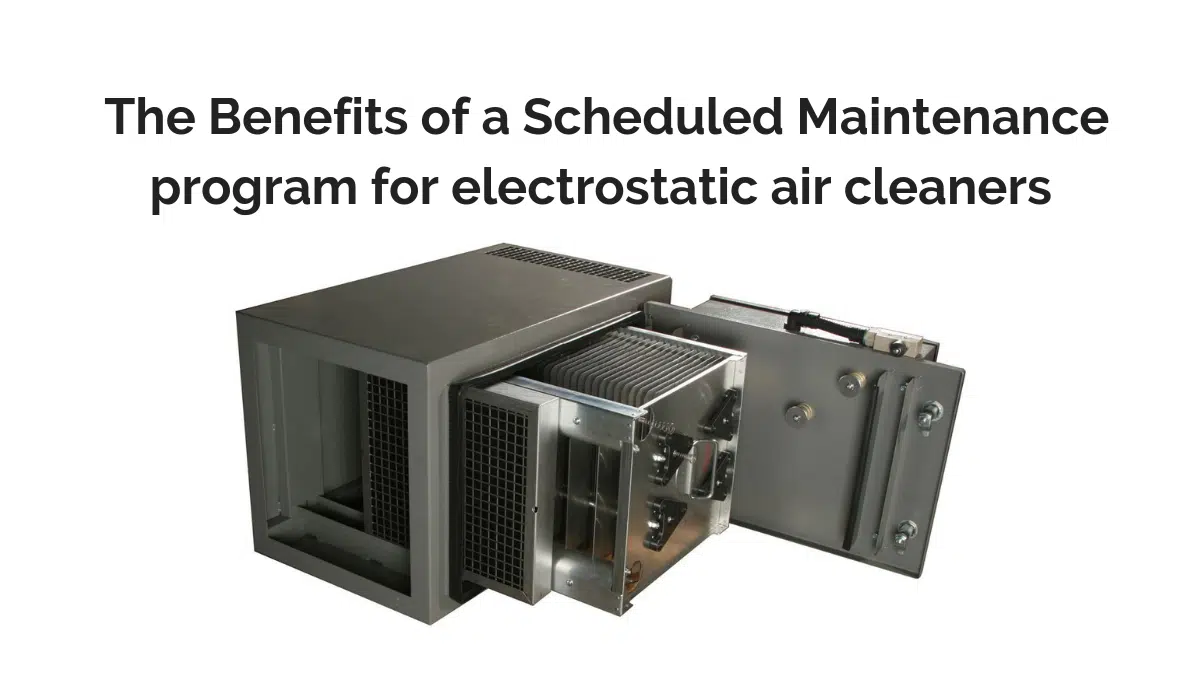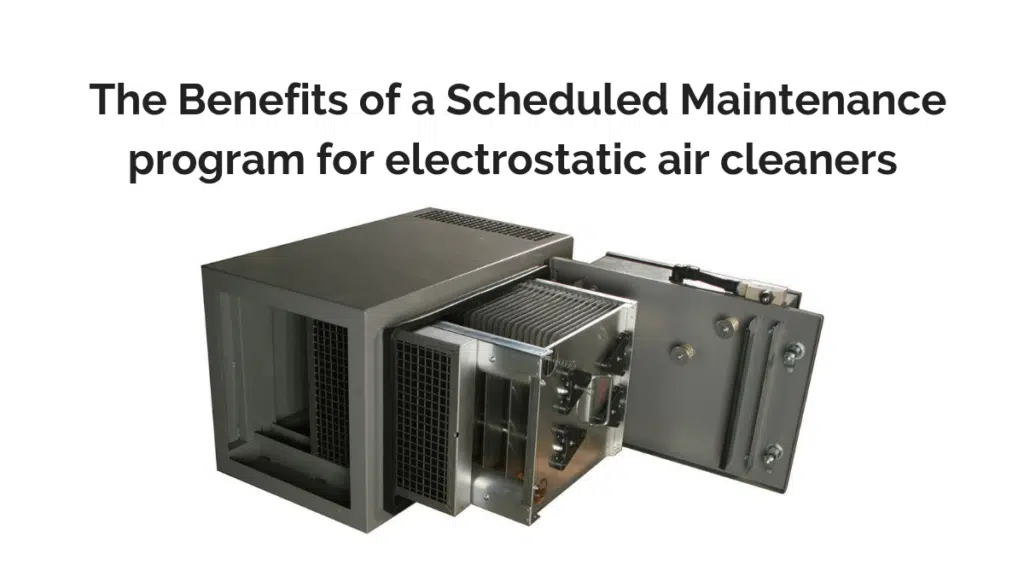 A scheduled maintenance program for your electrostatic air cleaners is an aspect manufacturers must consider. While it may seem like an expense, the return on investment is clear when it comes to employee productivity and equipment expenses. In this blog, we discuss the four key results we see our customers in the manufacturing industry benefit from when participating in a scheduled maintenance program.
Efficiency
As with most scheduled maintenance and preventative maintenance, the effectiveness of the program is top of mind. There are three different points of efficiency to consider, Air Cleaner efficiency, Energy efficiency, and Employee efficiency. In terms of effectiveness related to the air cleaner collecting, as it gets dirtier and collects further back, it becomes less and less efficient, which then leads to failure and arcing damage. Thus, with regular cleaning, the efficiency of the equipment benefits tremendously. One of the benefits of electrostatic air cleaners is the extremely low energy use as compared to comparable Media filtration equipment. Unless regularly scheduled maintenance is performed on media air cleaners, the energy use will continue to increase as they get dirty. Lastly, employee efficiency is to be considered in cases when the equipment is allowed to get dirty to the point of smoke blowing through. This results in an unpleasant working environment.
Equipment Lifetime
Scheduled maintenance of any equipment in your facility will positively benefit its lifetime. This holds true with electrostatic air cleaners. We have been servicing the same electrostatic air cleaners for 40+ years so we get to see firsthand how a regularly scheduled service prevents many of the issues that can arise with your equipment. Some things to watch for are the blowers becoming dirty, and out of balance and power supplies not outputting the correct voltage. Luckily with scheduled maintenance, a tech can quickly diagnose an issue and eliminate a problem before it affects equipment lifetime.
Financial
The benefits of a scheduled maintenance program financially are one of the most important factors. When service is neglected because of a cost orientated mindset, this may lead to what appears to be short term gain but generally will lead to costly repairs down the road. Regular service cuts down on the wear of parts such as the power supply which will have an increased load if not regularly serviced. Collection cells also get ruined with lack of maintenance, which leads to an unnecessary expense as we have seen collections cells last upwards of 25 years. Another factor to consider is the cost of overtime when a machine failure occurs. Often when the electrostatic air cleaner cannot run, the machines they collect from cannot either which adds up additional unnecessary expenditure.
Safety
The last benefit to consider is the safety of your employees. Poor working conditions resulting from improperly maintained air cleaners can result in a slip hazard or even worse adversely affect an employee's physical health resulting in insurance claims. Air quality should be top of mind when considering regularly scheduled maintenance.
At Bee Clean Specialties, we are in business to improve employees working conditions with the solutions we provide. We can work with you to provide a solution that fits in with your budget and benefits your facility and employees. Contact us today to take advantage of our Free Air Cleaner Evaluation. As always remember if you Breathe Better, you will Work Better, and Live Better.
Thanks for reading,
The Bee Clean Team
contact@beecleanspecialties.com
847.451.0844.