Introducing Our New Dust Collector Service!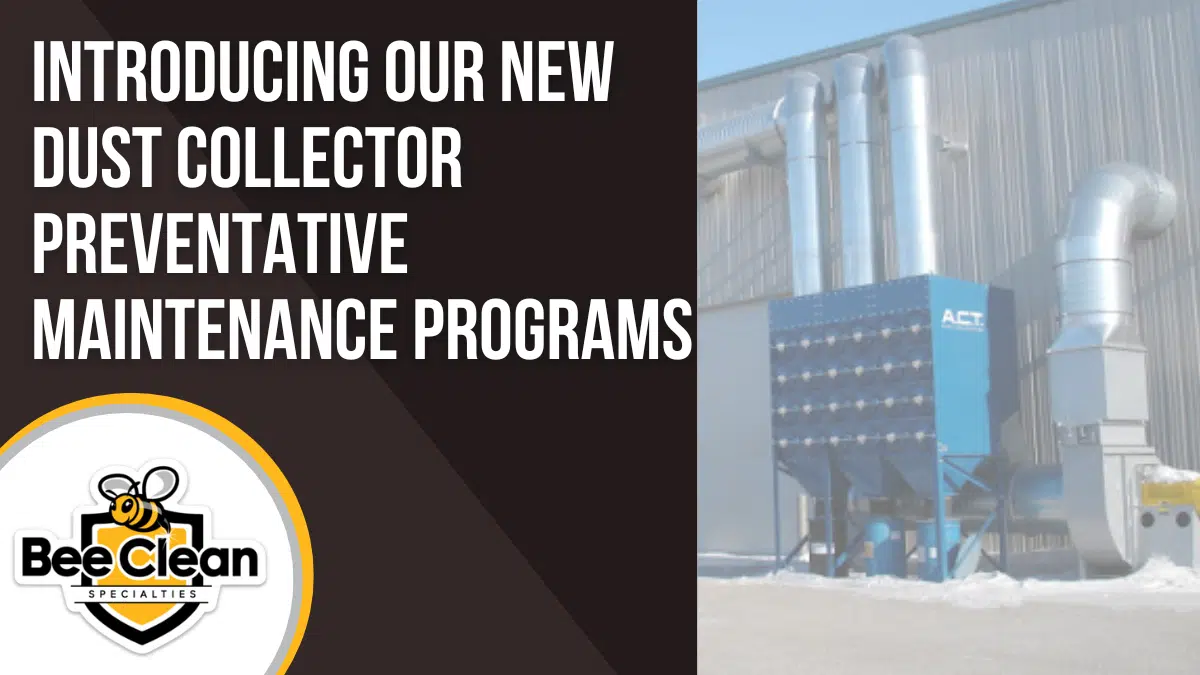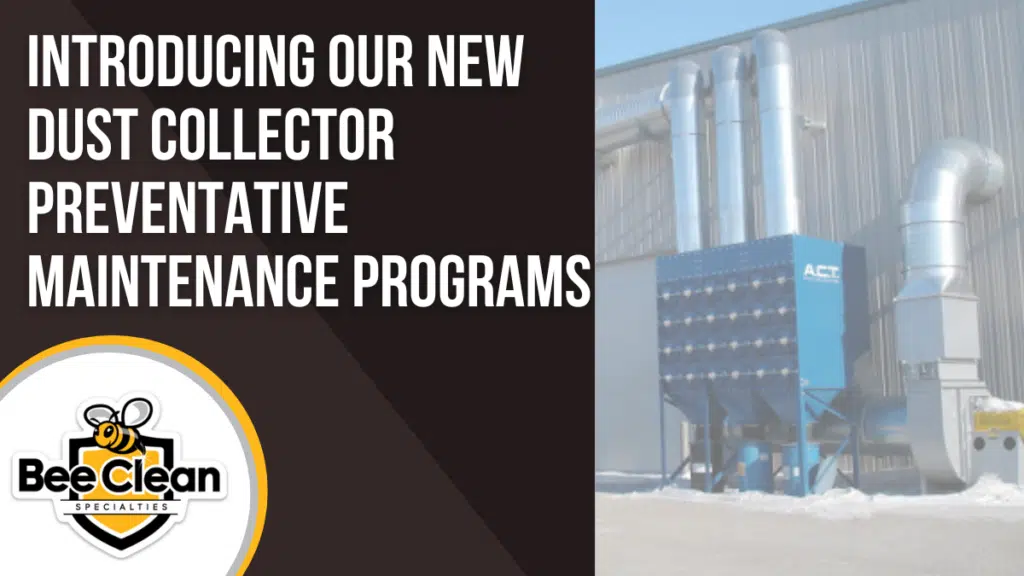 Dust Collector Service
Today the team at Bee Clean Specialties is excited to announce a new division of our clean air service. We are thrilled to launch our preventative maintenance program as well as any repairs or filter change-outs. We have been servicing dust collectors for years, but we are putting a focus on our new complete service for your dust collector equipment. Starting with cartridge-style dust collectors, we are now offering three levels of preventative maintenance programs, and we cannot wait to start.
Bronze Level Preventative Maintenance
Our bronze level preventative maintenance is the most inexpensive of the three programs, and it provides you with the three most important and necessary checks on a schedule that you decide. The pricing is based on the number of cartridges and the number of hoppers. For a standard ratio of 16 cartridges for each hopper, our starting price is just $121.33. For this price we:
inspect all gaskets, including door and port gaskets

check your

differential

pressure gauge to ensure it is reading accurately and triggering the cleaning cycle at the correct time

check the pulse and record the delay, where applicable, to ensure that every diaphragm valve is operating correctly and your cleaning system is functioning as it should.
Silver Level Preventative Maintenance
Silver is the next step up. It bridges the gap between our premium and our economical preventative maintenance programs. This service offers everything included in the bronze-level service as well as four other vital checks. These four are:
inspect all drive components, including motor, fan, belts, and pulleys

inspect the condition of the filters so we can predict when you will need to change them or if there is a tear or some other problem with the filter media

Inspect the hopper discharge seal to ensure there are no air leaks

inspect all the airlines and fittings for leaks or other issues.
This level of service offers the more efficient operation of your dust collector as well as more accurate prediction and prevention of problems, and it is definitely worth the extra money, especially on bigger systems.
Gold Level Preventative Maintenance
Our Gold Level preventative maintenance is the highest level we offer, and it includes all the checks necessary to ensure your dust collection equipment is operating smoothly and efficiently without unexpected problems. This level includes everything offered in silver and bronze but also includes:
Inspect hopper internals to make sure that there isn't dust buildup that is not emptying into the dust drum

record and making necessary adjustments to your pulse duration

inspect your compressed air manifold welds to ensure there are no leaks or faulty welds

Inspect your clean air plenums to make sure your filter is effectively capturing dust and that there are no dust leaks.
The Gold Level is the service to go with on hazardous material or very large collectors where a breakdown would cost you a lot of downtime.
Additional Options
With all these options available, there should be one that fits your needs, but the team here at Bee Clean wants to ensure our preventative maintenance program works for you. One of our core values is flexibility, and this applies to our dust collector preventative maintenance. If there is a specific concern you have, or you want to add a system check based on previous problems with your equipment, or even if you are looking for a hybrid of the levels that we offer, let us know. We will happily customize our service to meet your specific needs.
Thanks for your interest, and we are glad to assist you with any of your dust collector questions! Give us a call at 888-451-0844 or email us at contact@beecleanspecialties.com.
The Bee Clean Team